Making an audioguide has never been that easy
Muzze is an app that lets you create an audioguide in 3 simple steps

Activate the sensor

Take a picture

Record a cool story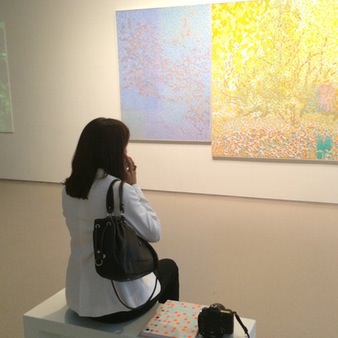 All set and done !
Audiotour in a day ?
Impossible ? Let us show you how
MUSEUM
3 simple steps to create an instant audioguide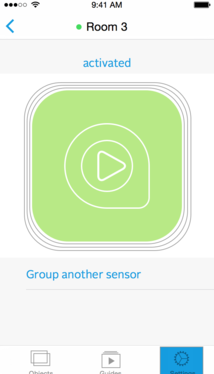 ACTIVATE THE BLUETOOTH SENSOR
Place a bluetooth iBeacon sensor somewhere in the room. The sensors are small (5cm), don't need any external power, and can easily be attached or removed from any surface.
The reach of the signal depends on the obstacles in the room but on average this is around 20 meters. Within this distance audio stops can be recorded for the audiotour.
Repeat this and place an extra bluetooth sensor in every room where there are pieces of interest you want to add to your audioguide.
The battery in the sensor has extra capacity and therefore lasts around two to three years. The cover of the sensor can be opened to replace the battery in time.
Take a picture of the artwork
All there is to it to make an audiostop, is to take a picture of the object you have something to tell about.
Taking a picture automatically records the physical location if an available bluetooth spot is found.
Fill in the title and name of the collection and save you audio stop. You can (temporarily) de-activatie a stop by the flick of a swtich, which comes in very handy when preparing a new exhibition.
You don't have to wait for changes to take place. Any new audio stops you add or changes you make are available in real-time for visitors. Just by syncronizing.
If you have foreign visitors, you can select multilanguage and all the stops you make in your native language will be duplicated in the languages of your choice.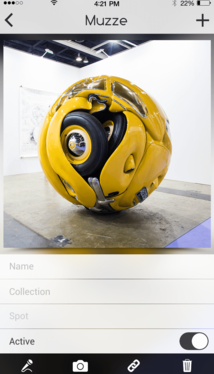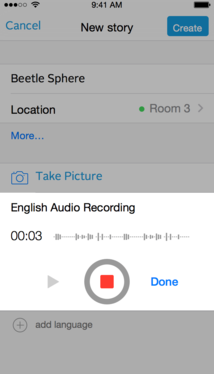 Record a compelling story
You can record the voice over straight away or later. By yourself, or by some else, like a voice actor, a famous person or the artist himself.
You can record the audio within the app on the iPhone itself.
For best quality you can also connect an external microphone to your iPhone.
You can always change or remove the audio at a later stage.
If you chose multi language, you can record the audio for the stop in each language you choose.
VISITOR
You can now use your own smartphone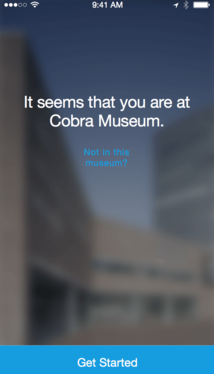 Download the app
Connect to the free wifi of the museum.
Go to your appstore for iPhone users or playstore for Android users. Check for a search option and look for Muzze. You can now download and install the app.
Once you open up the app, it will try to locate where you are and automatically start downloading the audioguide from the museum you're in, in the language you choose.
The app is currently available in 5 languages: English, German, French, Spanish, Catalan and Dutch.
Turn your bluetooth on so the app is able to detact where you are. With bluetooth auto-detection the app switches to compatible mode if the smartphone does not have the latest bluetooth (4.0).
Start walking around
You're all set by now. All you have to do is to walk around and as soon as your smartphone picks up a signal it will show you the available stories on artworks in that particular room or space.
Once you spot something you like you can just tap and listen to the story.
You can just hold your phone to your ear, or if you prefer you can plug your headphones.
With older smartphones, the app will automatically switch to compatible mode. In this mode it will show all available locations. So you can navigate by yourself and pick the stories you like to listen to.
Because the app works with low energy bluetooth radio signals it consumes very little battery life, leaving you with a working smartphone, even after a tour of 60 minutes.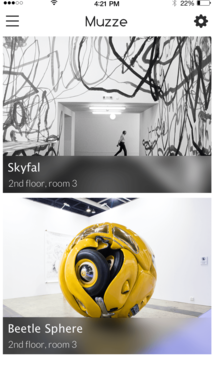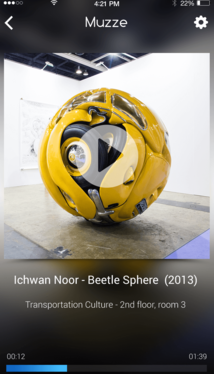 Discover great stories
Instead of having different apps, for different museums, that work in different ways. With Muzze you can have one app that works in several museums, so you can use it anytime you want and where you go.
Our goal is to provide museums an easy to use tool so they can share the stories they know with us, so we can understand better what we are looking at, and make museum visits more fun and interesting.
If you feel the same, share the love and support us on twitter or facebook.
Most important features
The app works both on iPhone and Android and with that covers 90% of any audience
---
Works both inside & outside
Bluetooth sensor technology
---
Frequently asked questions
Although we try to cover any question if you have more, then just drop us an email at sales@muzze.nl
---
With Muzze you can make multiple points of interest using only one sensor per room or space.


The battery (CR2477t) lasts up to 2 to 3 years, and is easy to replace removing the lid with your nail. A new battery will cost anywhere between 3 and 5 euro (ex.VAT).


Yes, but no worry if you don't have it (yet). We also provide wifi solutions ourselves or with our partner for bigger venues. As long as there is internet access in the building you're good to go.


At this moment we have an early bird subscription without limitations to the amount of stops. So you can go ahead and create whatever you want and as many of it.


The sensors have the size and weight of a matchbox. They are 5 x5 cm with a thickness of 1,5 cm and they weigh 35 grams. They can be attached to a surface using double sided scotchtape or with a small nail since the lid has a little hole in order to hang it to the nail.


Yes, the regular one are waterproof but just for moist. If you use your beacons outside where they are exposed to pouring rain and storms we have special sensors that have a close IP44 enclosure that are fully waterproof. They cannot be opened (so no water comes in) but they can be replaced after the battery wears out for a special reduced price.


Yes, they are. Yet we prefer to call them bluetooth sensors so everyone understands which is the underlying technology.


For visitors it works on both iOS and Android covering 90% of the market. To create an audioguide you have to have an iPhone 4S or newer. The admin interface of the app works on iPhones exclusively that have Bluetooth 4 or newer (iPhone 4S, 5, 5C, 5S, 6, 6 plus, 6S, 6S plus, iPod 5th generation).


In that case, the app switches back automatically to a so called compatibility mode. Since bluetooth won't work here (because they do not have Bluetooth 4) the app is not able to detect the sensors and doesn't know where the visitor is. If so, the app will show all locations that the curator has setup with works and stories so visitors can see and navigate to the locations themselves.


To record straight onto the iPhone itself from within the app is tecnically possible but won't give a good audio quality. For this purpose in the start kit we provide a very easy to use, digital studio (48 kHz) microphone, that can be plugged in the iPhone. Recording with this mic creates a studio quality audio that is perfect for audioguides without the need of hiring a professional studio and all its equipment.


Then the simple will start interfering and the app will get very 'jumpy' since the smartphone has a hard time figuring out which sensor is closest by. The best case is to have a distance of at least 15 meters between two sensors.


The app itself is for free and can be downloaded from the apstore (iOS) and the playstore (Android).


Excellent. Then you understand the value of offering this layer to your audience. Still you can use Muzze alongside your existing systems for temporary exhibitions for instance, since most audioguides aren't that flexible for constant changes and Muzze is.


We traveled the globe with the Startupbootcamp IoT & Data Pitch Days. We met 150+ Startups, 250 applied online, we held over 50 Skype interviews with the best teams and asked our mentors and alumni to give us second opinions. Finally we invited 17 extraordinary and super keen teams to Selection Days, of which 10 entered the program of which Muzze was part.

Die Museums-App Muzze aus den Niederlanden gewinnt.

After 2 weeks judging over 1,500 applications, our judges have chosen their top 200 companies to pitch at Web Summit. I'm delighted to say that Muzze really impressed and have qualified to join the PITCH ALPHA group !